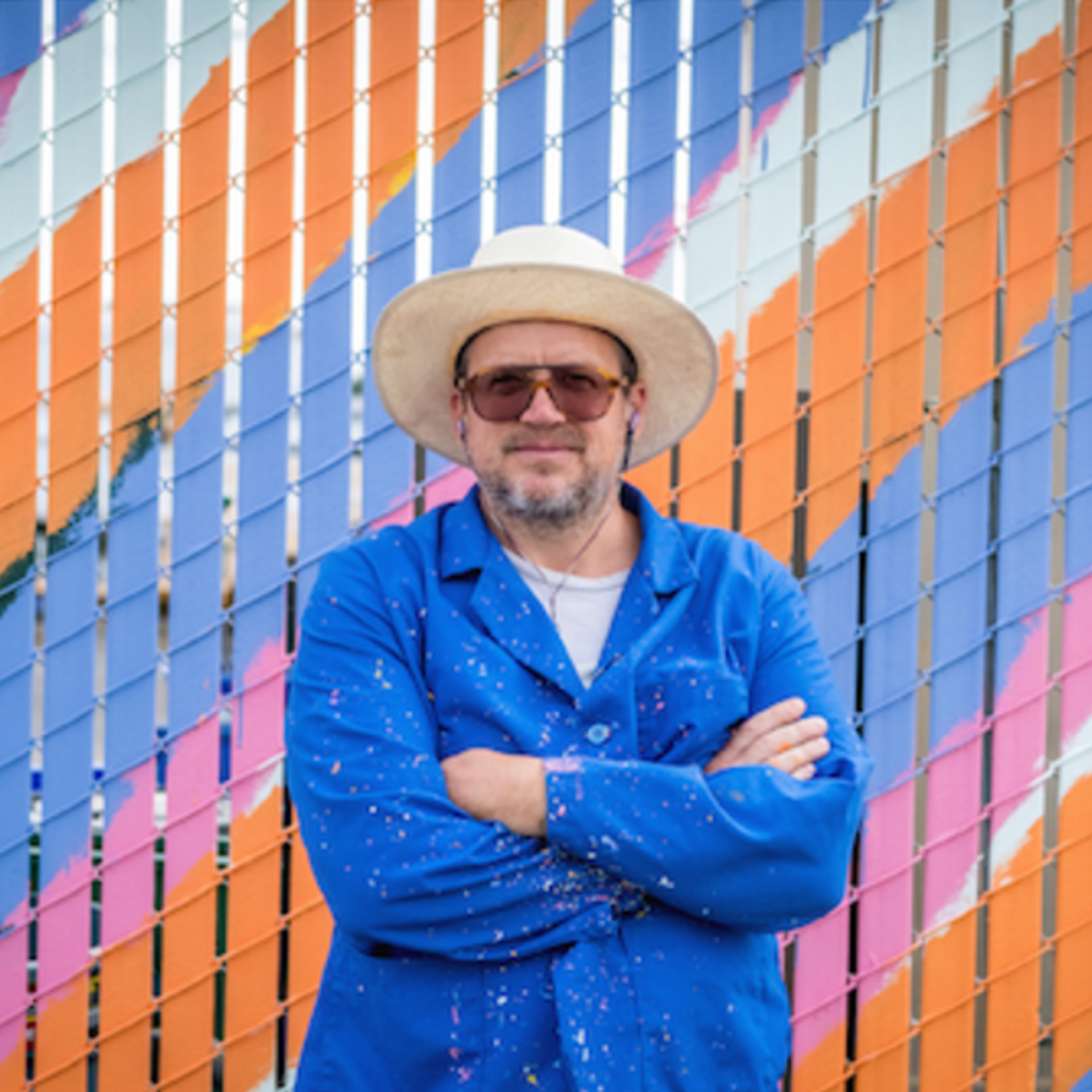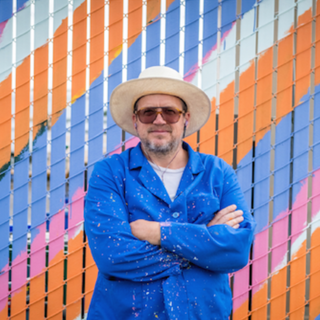 ARTIST'S STATEMENT
Mike Kelly's bright paintings seem to vibrant with energy and movement. They are meant to be neurally and optically challenging. The artist intends for the viewer's eyes to be pushed to higher levels of resolution as each work allows for multiple reads and interpretations.
Repetition, pattern, and variation are vital to Mikey's process. Looking at his work comprised of precise lines and overlapping patterns, the first assumption is often that these works are created with the aid of modern technology. Mikey's work is in fact a a visual reminder of the rewarding possibilities of fastidious and patient handwork. Mikey describes his artistic practice:
My process starts with the architecture of an analog program. I developed a design automation using polyalphabetic ciphers and numeric algorithmic systems that allow language based inputs to be translated into directional code. This code dictates the angles and color of each series of lines. The overlaying of color in subsequent layers causes the painting to shift and change with each addition, finally revealing itself upon completion.
In this age of digital design, Kelly chooses a more painstaking method of construction. Like flaws that only enhance beauty when seen through the Japanese aesthetic of wabi-sari, subtle "imperfections" in the works bring a richness that would not be possible with the unswerving regularity of a machine. As the artist states:
The importance of the artist's hand in the work is vital to its soul. This allows there to be a dialog between the artist and the material and allows for a direct influence on one another. Each piece starts with a framework of how it is going to be constructed, but through the process the piece evolves and changes. The repetitious elements build familiarity in process but also allows for the smallest variation in detail to magnify. Through a scientific and mathematical framework and simple repetition, the line transforms becoming a fabric, a network, and ultimately a construction.
ABOUT
Mikey Kelly is a contemporary artist living and working in Napa, CA, he is best known for his abstract paintings, drawings, metal sculptures and murals. His work explores the use of cryptography, language and mathematics to design neurally and retinally challenging geometric abstractions. His interest in systems, patterns, color theory and visual perception are also evident in his work.
Kelly exhibits regularly, including shows at Slate Contemporary Oakland, CA), Chandra Cerrito Contemporary (Oakland, CA), Art Market (San Francisco, CA), Miami Project (Miami, FL), Franklin
Parrasch Gallery (New York, NY), Cranbrook Art Museum (Bloomfield Hills, MI), Crocker Art Museum (Sacramento, CA). His work has been shown nationally and is included in public and corporate
collections.
Read More